back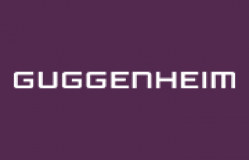 Guggenheim Investments
Overview
Guggenheim Investments is the global asset management and investment advisory division of Guggenheim Partners and has more than $224 billion* in total assets across fixed income, equity and alternative strategies.
We focus on the return and risk needs of insurance companies, corporate and public pension funds, sovereign wealth funds, endowments and foundations, wealth managers and high net worth investors. We have a track record of delivering results through innovative solutions.
Our history stems from Guggenheim Brothers, the Guggenheim family business dating back to the late 1800s. Guggenheim Partners began with the mission of creating exceptional value for our clients by applying the principles that made the Guggenheim family one of the most successful innovators, investors, and business managers in American history.
We engage highly talented people, challenge them to think creatively, and encourage them to achieve extraordinarily high standards in their fields of expertise.
Portfolio manager
Topics:
CONTACT
Name: Guggenheim Sales Desk
Number: 1-800-345-7999
Email: Intermediary@guggenheiminvestments.com
Additional Useful Links:
Subscriptions – Fact Sheets and Commentaries
---
Disclosure:
Read a prospectus and summary prospectus (if available) carefully before investing. It contains the investment objective, risks charges, expenses and the other information, which should be considered carefully before investing. To obtain a prospectus and summary prospectus (if available) click here or call 800.820.0888.
Investing involves risk, including the possible loss of principal.
*Assets under management is as of 3.31.2023 and includes leverage of $14.7bn. Guggenheim Investments represents the following affiliated investment management businesses of Guggenheim Partners, LLC: Guggenheim Partners Investment Management, LLC, Security Investors, LLC, Guggenheim Funds Distributors, LLC, Guggenheim Funds Investment Advisors, LLC, Guggenheim Corporate Funding, LLC, Guggenheim Partners Advisors, LLC, Guggenheim Partners Europe Limited, Guggenheim Partners Japan Limited, GS GAMMA Advisors, LLC, and Guggenheim Partners India Management. Securities offered through Guggenheim Funds Distributors, LLC.
• Not FDIC Insured • No Bank Guarantee • May Lose Value
This website is directed to and intended for use by citizens or residents of the United States of America only. The material provided on this website is not intended as a recommendation or as investment advice of any kind, including in connection with rollovers, transfers, and distributions. Such material is not provided in a fiduciary capacity, may not be relied upon for or in connection with the making of investment decisions, and does not constitute a solicitation of an offer to buy or sell securities. All content has been provided for informational or educational purposes only and is not intended to be and should not be construed as legal or tax advice and/or a legal opinion. Always consult a financial, tax and/or legal professional regarding your specific situation. Investing involves risk, including the possible loss of principal.
#57458